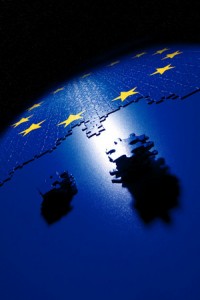 Global problems demand global governance: we have been repeating it for years. And truly, after World War II, international institutions have proliferated and ended up playing important roles in almost every field. It's not just the United Nations, with their galaxy of agencies, but also the Bretton Woods twin institutions, the International Monetary Fund and the World Bank; OECD; OPEC; the World Economic Forum; the structured military alliances like NATO and SEATO; the Club of Madrid; the International Atomic Energy; the WTO and many others. In Europe, this tendency is amplified by the continent's unification project, and Brussels's influence on public policies of EU member states has come to be very important. By some calculations, 70% of the activity of the average European country's parliament consists in signing and stamping directives discussed and decided upon in Brussels and Strasbourg – which would make those parliaments little more than expensive decoration.
This system is extremely efficient. With 736 MEPs (the German Bundestag has 622) and a bureaucracy of only 33,000 employees the European Union runs the world's largest economy, with 500 million inhabitants (Oxford Economics estimates public sector employees at 2.5 million in the UK in 2009, though the two figures are of course not directly comparable). But such efficiency comes at a price; many Europeans perceive the Union's institutions as distant, inaccessible, unaccountable – at least to them. The European Commission, the EU's executive arm, is not elected, but appointed by the member states. The European Parliament is elected, but MEPs find it hard to reconcile the day-by-day work in Brussels with the need to stay in touch with their constituency, which tend to be very large. As a result, these institutions feel like they are working in a vacuum. They study official reports from far-away places, but the everyday life of citizens is perceived as some remote radio transmission with a lot of static on top. The combination of isolation and need for high quality information creates a space for lobbying, and, unsurprisingly, lobbying ensues. In the European political jargon, this problem is called democratic deficit.
The social Internet, I believe, has the potential to break the barrier separating the women and men working for international institutions from citizens. Social filtering allows to entertain massive-scale conversation without too many information overload problems. My past experience with Kublai showed that a central administration can open a direct dialogue with individuals in peripheral territories, leapfrogging all the local administrative levels, and that such disintermediated discussion is an very effective learning tool for the institutions that engage in it. My team and I are trying to enact similar tactics at the European scale with Edgeryders. Individual elected and appointed officials are exploring this space in a more agile way than large organizations can: Dutch MEP Marietje Schaake and Digital Agenda Commissioner Neelie Kroes are notable examples.
International institutions are interested. Tomorrow (November 29th 2011) the European Parliament – led by its vice president, Gianni Pittella – hosts a discussion on this issue, with a lively program: I have the honor of presenting Edgeryders. On December 9th I will hold a webinar with United Nations Development Programme/Eastern Europe and Central Asia. It is a promising path: I hope it takes us far, because we are are in dire need of reinforcing supranational governance with democratic legitimacy.