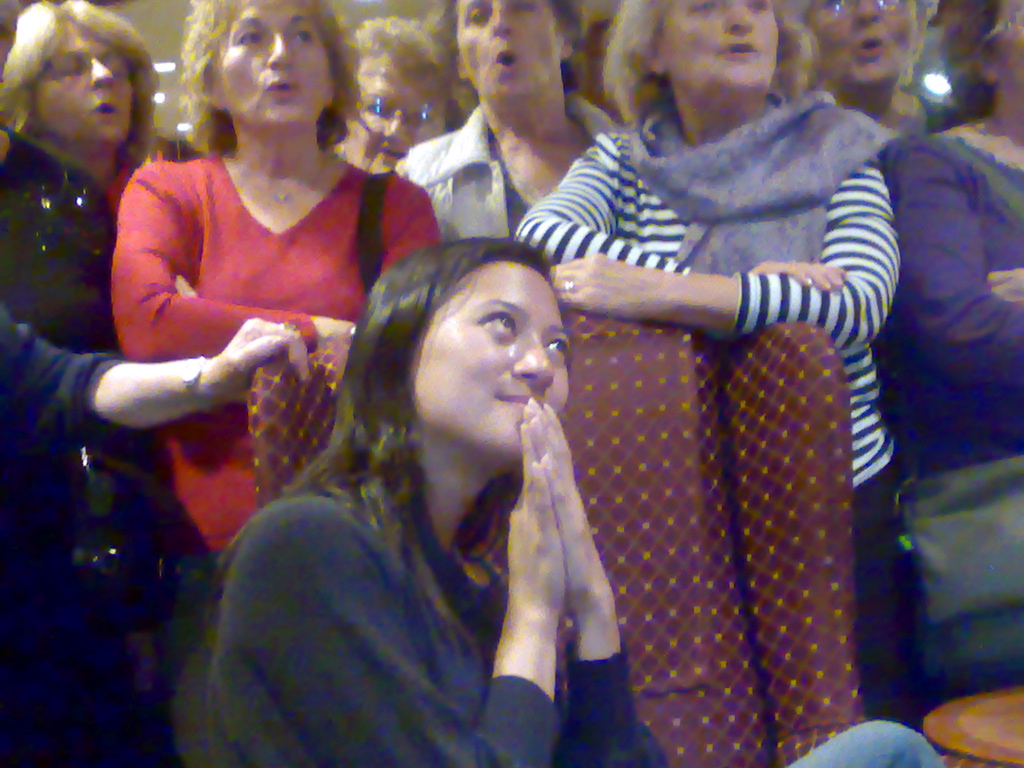 E' bello viaggiare con le mondine! Organizzare il tour americano di Di madre in figlia non è stato facile (e ti credo, bisogna spostare, alloggiare e nutrire 25 persone dai 30 agli 84 anni! Anche solo fare il check in in albergo diventa un'impresa). Ma ne vale la pena, per due ragioni. La prima è la grandissima soddisfazione di vedere gli americani che rimangono a bocca aperta di fronte al concerto e alle mondine. Imperialismo culturale, tiè. La seconda è che mi piace tantissimo proprio stare con loro, guardarle sciamare tutte allegre al mercato di Pike Place a Seattle in cerca di regalini per i mariti e i figli rimasti a casa, ammirare la skyline delle città americane, cantare fino alle due del mattino nei ristoranti, fare nuovi amici (nella foto dedicano una canzone a Jenn, conosciuta a Vancouver e che ci ha immediatamente adottati).
Hanno il passo dei vecchi diesel, non scattosi ma potenti e sicuri: un po' lenti in partenza, ma imbattibili sulla lunga distanza. Tutte le sere ci mandano a letto: noi stanchissimi per i viaggi e i concerti, loro macché, granitiche. Loro stesse dicono che "a'g vol des franc par invières e cent par fars tasér" (ci vogliono dieci lire per farci iniziare e cento per farci star zitte). Nella miglior tradizione del rock'n'roll, non si tirano indietro quando si tratta di fare baldoria: ieri Dave, il nostro tour manager, ieri si è ridotto a chiedere al direttore del teatro dove poteva trovare un negozio di liquori aperto di domenica pomeriggio, e per giustificarsi dicev che "alle signore piace il Jack Daniels". Insomma, il tempo passa che è una meraviglia. Dal finestrino del tour bus guardo passare la Interstate 5. La Deanna, la Viliana, la Manuela e l'Italia giocano a scala quaranta.
Andrea Zambelli, director of Mondine – From mother to daughter, is in Toronto for the film's world première. I just got this email from producer Davide Ferrario. I translated and copied it below, I am too overwhelmed to add anything.
Zambe tells me that the first show was sold out (300 people). No one left. We had two applauses during the movie, and tears and enthusiasm at the end.
"I didn't expect such an emotional reaction", said the director…
A long debate with many questions followed. To be fair, half the audience consisted of Italian Canadians, but their heritage was not necessarily the only reason for them to like it.
Filmitalia people were also deeply moved, they send many congratulations. All in all, we all deserve them. Tonight second show for the general public. Tomorrow I'll speak with Andrea again.

Davide