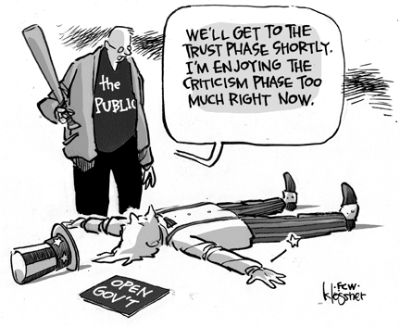 The week begins under the star of open data. Tonight – Monday, April 18th – the Spaghetti Open Data group meets up for the first Italian Data Drink to enjoy an happy hour together; symbolically, we are going to meet at Mokarabia in Piazza Fiume, where it all began. Everybody is welcome (map). Many of us are in Rome to participate in an event organized by the fine folks at Agorà Digitale in Parliament for Tuesday 19th. As fond of our spectacular mailing list as I am, I look forward to a physical gathering, and to strengthen our links with the global open data movement thanks to the many guests from abroad.
Meanwhile, in the U.S., the Obama administration is revising its strategy on networked participation of citizens to policy making. Over two years after the famous presidential memorandum, the "open government" denomination itself is being abandoned for a new one: Good Government (official site). Beth Noveck, former deputy CIO at the White House, agrees (I recommend reading the full post):
In retrospect, "open government" was a bad choice. It has generated too much confusion. Many people, even in the White House, still assume that open government means transparency about government [and lose sight of] collaboration informed by data.
On Tuesday 19th I'll also find the time to do a little thing of my own: I am presenting my book Wikicrazia in Rome, in an event called "Coffee with…". The format is intriguing: we meet up at 8.30 a.m. and discuss over breakfast, on the spectacular terrace of Reti's headquarters. It's by invitation only: if you want to join us, let me know and I'll try to get you invited.
Share this:
Follow