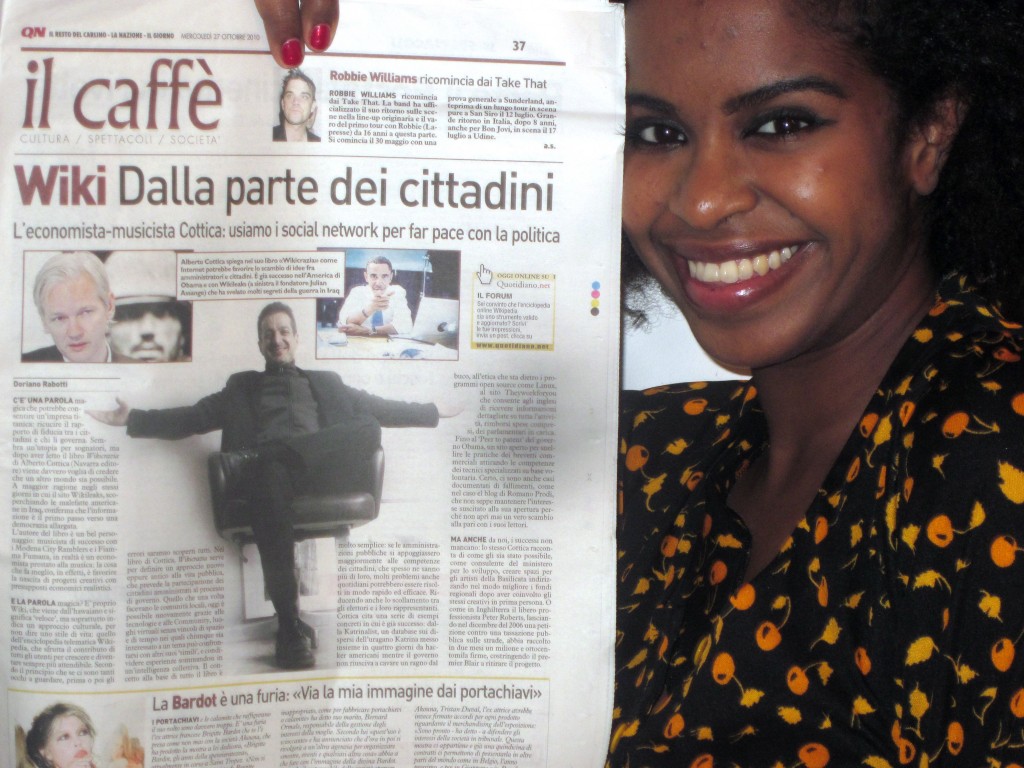 Another book presentation. The last one came with a prestigious newspaper article: that's me, with President Obama on one side and Julian Assange on the other!
AGGIORNAMENTO 1 NOVEMBRE: uno dei miei due discussant si è preso l'influenza. Con gli amici dell'università di Modena e Reggio Emilia abbiamo deciso di rinviare l'incontro per avere un dibattito al massimo dell'energia. Probabilmente rinviamo a martedì 23 novembre, stessa ora, stesso posto, comunque vi tengo aggiornati sia qui che sull'evento Facebook.
Dopo la piacevolissima serata di Bologna, martedì 2 novembre sarò a Reggio Emilia per un'altra presentazione di Wikicrazia. Niente libreria, questa volta: a ospitarmi sarà l'Università, che ha un ciclo di seminari che si chiama "Percorsi della Comunicazione Scientifica". Sarà un test interessante per il libro, perché a discuterlo e criticarlo, se pure affettuosamente, ci saranno due amici cari e molto intelligenti, che mi vogliono troppo bene per farmi sconti: Tommaso Fabbri e David Lane (il secondo è anche coautore della prefazione collettiva. Per chi volesse venirmi a trovare, l'appuntamento è alla Mediateca di viale Allegri 9 alle 16.30.
Colgo l'occasione per ringraziare Doriano Rabotti del Quotidiano Nazionale, che mercoledì scorso ha dedicato a Wikicrazia la prima pagina dell'inserto culturale del Resto del Carlino, La Nazione e Il Giorno. Mi hanno sistemato tra Barack Obama e Julian Assange, mica male!
Share this:
Follow