Reposted from Edgeryders
A few years ago we started paying close attention to care. Ready-to-go, affordable health and social care was – and still is – unavailable. Not for some unknown person in some distant land, either. For friends and family members, people in our communities, right here. Something had to be done.
We see people coming together, stepping into the breach. Communities are taking up the role of care providers, making it work where neither the state nor private business could. They are doing amazing things. Hackers make open sourced, internet-enabled glucose monitors for children with diabetes. Belgian trauma therapists set up mobile studios and drive them to refugee camps in Greece, to help bereaved refugees. Bipolar 1 patients find and help each other fight back suicidal tendencies. Biologists and biohackers are trying to invent a cheap, open source process to make insulin. Activists in America encourage each other to eat healthy food and exercise by doing it together.
We started a research projects to take a good look inside these and many other stories. We wanted to learn what these initiatives have in common, and how we could make more. That project is called OpenCare; it is now in its second year. Results are still coming through, but one thing is already clear:
It's all about humans.
Community provision of care services needs humans:  more, better prepared, volunteers. People prepared to teach each other skills.  Therapists to help volunteers in need of trauma support. So, the highest-impact technologies are those that help bring people together. Share knowledge. Distribute human resources across different care contexts. These technologies are connectors: they help string together and coordinate human efforts.
This intuition is fundamental. It goes even beyond care. And it makes sense: we are, after all, the 99%. We have little money and power. We have no large companies, fancy foundations, prestigious universities. But we do have each other. We will thrive, if we can collaborate. Collaboration is expensive, and hard to monetise. Any technology that makes it more efficient is going to make a difference.
At Edgeryders, we have resolved to put this lesson into practice. We are doing it by hacking the most fundamental connecting technology of all: the home.
We dream of a new kind of space, that can be the hearth for our families but still be open to the broader world. Where the door is not a gate to keep the wolves out, but a bridge to a global network. Where we can live, and work, and sometimes work with the people we live with, and live with our co-workers. Where people are welcome to stay for one day, or a lifetime. Where spending even just an hour in good heart ensures you will never be a stranger again. Where we can develop our talent, learn new skills, get better at what we do. Where we can create for each other a healthy, friendly, cosmopolitan environment and, yes, take care of each other.
We have dreamt this dream before. In its previous iteration, we called it the unMonastery. We prototyped in 2014, in the Italian city of Matera. That experience taught us much. The most important lesson was this: a life/work space can not be too close to the needs of a single client. Neither can it be dependent on the grant cycle. It needs to be financially self-sustaining, and benefit several projects and lines of business. We also learnt how important it is to be diverse, open and outward-looking for fresh air and fresh ideas to circulate at all times.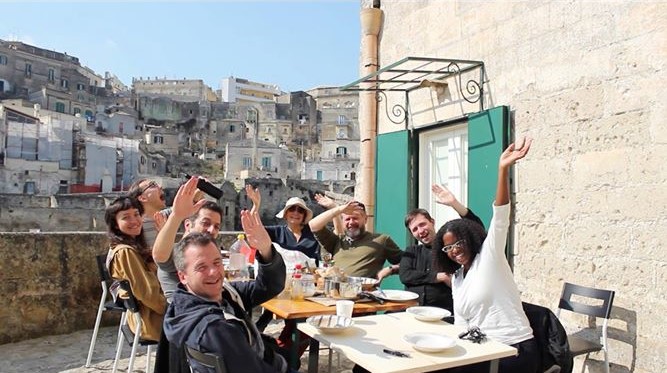 But the unMonastery also got many things right. The one I am proudest of is this: we went ahead and tried it. Planning and due diligence are necessary, but trying things out makes for richer learning.
So, we are not going to keep dreaming about a new space. We are trying a second iteration. Right now.
We are calling it The Reef. Coral reefs are structures built by tiny animals, corals. They serve as the home, anchoring point, hiding place, hunting ground to thousands of species. Algae, seaweeds, fish, molluscs all cooperate with, compete with, eat, feed each other. As they do so, they benefit the corals, who gain access to nutrients (reefs exist in nutrient-poor tropical waters).
Like coral reefs, our new space will draw strength in diversity and symbiosis. Different people will bring in different skills, access to different networks, different personalities. And Edgeryders (a social enterprise, so a creature of a different species) will live in symbiosis with the space and the individuals that live in it. It will pay rent, subsidising those who live there; in return, it will be able to use the space for its own purposes: office, coworking space, venue for small events.
And like coral reefs, our new space is going to be an ecology – a network. There are many ways to take part in it. Some people will want to live there full time, others will show up once or twice a month, or a year. Some will use it on building projects with us, and with each other. Others will work on shared learning and professional development. Of course, we already have a network: the Edgeryders online community itself. This will not go away, in fact it will become ever more important. But now The Reef will give it a permanent offline presence. Reef members will be the kernel of the Edgeryders community. Everyone is free to join the kernel or not; everyone is free to play the role she feels most at home with.
We ran the numbers and we are sure we can make it work. We are going to start with a small-scale prototype: a Brussels loft, with four bedrooms, common living area, office, courtyard. Noemi , Nadia and I are going to be full-time residents; one more room will host temporary residents. We are going live on May 1st 2017, and try it out for one year. We are already looking for a (much) larger space to move into in spring 2018 if the experiment goes well.
Are you considering being part of the experiment, or just curious about it? There are three things you can do.
We are planning a side event to OpenVillage Festival dedicated to The Reef. There, we will design the physical space, its financing model, and the activities therein – from business to physical fitness and personal development. It is restricted to members, because this is our future home we are talking about. It's up to people with skin in the game to make decisions about it. Info here.
We are running our first personal development event in The Reef itself on 26-27 May. We will learn to be better public speakers in the Power Pitch weekend. Info here.
Get in touch! Write, or join our community calls, or come over for coffee.
So: a place-based symbiosis of some inhabitants of the edge, a mutant company, and no book to do it by. It's not going to be easy. But it has the vibe I was looking for: the excitement of building, and the pleasure of doing it with good, solid people. It is in the sweet spot between ambition and achievability. And I, for one, am going to give it all I've got.
Share this:
Follow