"Wait a minute: is this a co-living space?" I was asked this question a few weeks ago by designer Ezio Manzini, who was in town to present a recent book of his and had come over for dinner. We were standing in the courtyard of our new home, just a week or so into the moving. All I could do was stare at him. To me that was just home, but he was right: we do live in a co-living space. How did that happen? We are hardly commune material.
Here is the back story: a few years ago, Nadia and I tried the life of a migrant nuclear family, and hated it. Upon moving to Brussels in 2012, we decided to rent a larger apartment than we needed, and look for flatmates. Eventually a young couple, Kasia and Pierre (expats, like us), moved in with us, and we really enjoyed their company. When our landlord reclaimed his flat, we decided to stay together, and went about looking for a new home that could accommodate the four of us. And then we thought, wait a minute. This is working out quite well, so maybe we should consider growing the family: find an even bigger place, and look for two extra housemates.
So, I wrote a post on this blog, telling the full story of why we enjoy so much living with Kasia and Pierre. And then two wonderful things happened.
The first one was that we bumped into a creative real estate agent, Isabelle Sandbergen. We needed that, because, guess what: the real estate market does not serve people with non-traditional familial constellations. It is heavily geared towards the nuclear family or the swinging single; you can find large dwellings if you are prepared to pay a high rent, but they typically do not accommodate the need to mix socialisation and privacy; for example, at least in Brussels, they tend not to have enough bathrooms. Good luck finding anything with three or four bathrooms. Isabelle called us on an intuition: the same landlord, she said, was renting out two newly renovated lofts facing each other. They were individually too small for us, but how about we take both? They were separated by a simple fence, but that could be taken down to allow unimpeded access to both lofts for everybody. And we would have a very nice, huge private court on top of two open spaces (one kitchen-living, one office), four bedrooms, two bathrooms, two toilets and some extras. Were we interested? We were. We signed the contract after a week from that call.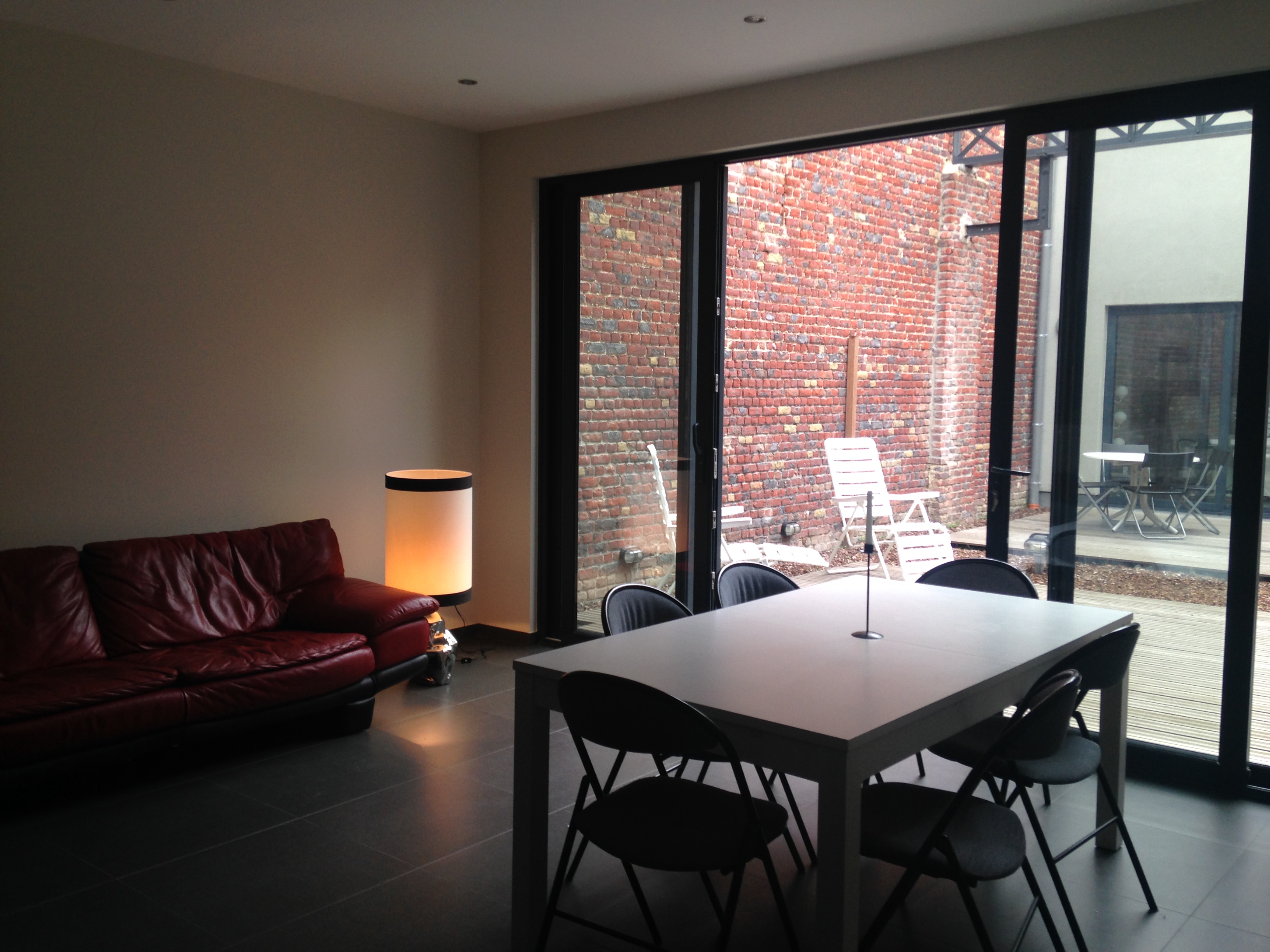 The second wonderful thing was finding two more great flatmates. They are both Italian, and both lived abroad before moving in with us: Giovanni in London, Ilaria here in Brussels. Ilaria lived here for a long time, and is practically a local; Giovanni is a total newcomer. She works in the Eurospace; he is currently focusing on a startup company. Ilaria planted a herbal garden in the courtyard, and Giovanni's tiramisu became the everyone's favourite treat. There's even more diversity in the home. How did we find them? In the usual way, through the Internet. When they showed up, they told us they had been inspired by my post, so they had at least an idea of what to expect. This reassured us they were likely to have the flexibility necessary for Living Social in Brussels; and flexibility we are going to need, a lot of it, because the journey is fascinating but there are no maps for it.
With six people, you might think we could get tired of the crowd. But the opposite is true: we have different lifestyles, plenty of space (about 200 square meters, plus the courtyard and a huge hallway) and we end up not seeing much of each other – not enough, in my opinion. In fact, I am trying to make a point of organising "family dinners" with the six of us at least once a month, because they are great fun but do not happen without somebody passing word around to save the date – though sharing a meal in smaller numbers, three or four, is far more common.
Ezio told me that his group at Politecnico di Milano was involved in designing some co-living spaces, but he had never been in one that actually worked. He was fascinated in discovering that real life had somehow overtaken R&D, and that we – not knowing that co-living is very difficult to do successfully – had gone out and simply done it. We do not think of what we do as design, but we are aware we need to learn how to live together and enjoy each other's company over the long run. So, we experiment: we use plenty of hacks like shared documents, an online calendar, spreadsheets for shared expenses and so on; we try stuff, keep what works, discard what does not. It's a lot like life.
Thank you for all your messages of sympathy, and for sharing our posts on the various social media: you helped Ilaria and Giovanni find us, and so enriched our life. And if you find yourselves in Brussels, come over for coffee, or a glass of wine!
Share this:
Follow