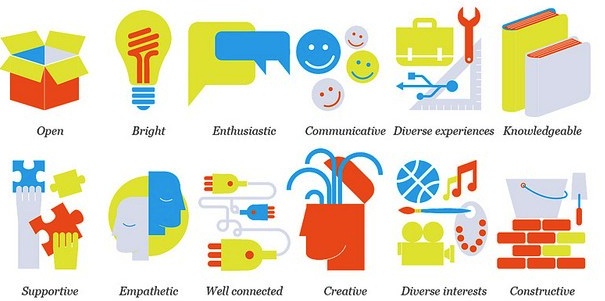 A few weeks ago, the Council of Europe released the e-book with the final results from the Edgeryders exercise. The back story is this: Edgeryders was born as an exploration of the transition of youth to independence and adulthood in crisis-stricken Europe. Normally the Council of Europe does this kind of thing by tasking a dozen qualified academics with writing a multi-author report, and then presenting its results. In this case, however, I was hired as project director, and proposed, instead, to build an open platform on the web and let every young (or not so young) European who wished to do so step in and contribute his or her personal experience. This made eminent sense, because all of us are either young or close to someone that is. Collectively, we have a lot of data about the transition of youth – much more than any restricted group of experts, no matter how qualified.
Matters turned out to be not that simple. My team and I had to put in place quite a complex project architecture: engagement managers to connect the project with communities busy with reinventing several aspects of society (like the social innovation, open government/open democracy and resilience communities); ethnographers to "harvest" and summarize the staggering wealth of ethnographic data that young Europeans contributed to the project; social scientists to compare the emergent world that innovative young Europeans are creating (or think they are) with the long-term goals and ideologies that inspire public policies of European institutions. We had to invent this methodology along the way; and I promise you it has been a fascinating journey, ripe with brilliant intuitions, goofy mistakes, and anything in between.
18 months after kickoff, I think it is safe to say that the fundamental premise of Edgeryders was true. That premise was this: if you have a problem that concerns the whole of society – a public policy problem – put it out there, throw the doors of your institution wide open and let a community of people that care about it grow around it, almost like a coral formation would grow on a sunken ship, and own it. I think the approach was right because the Edgeryders community did something unexpected: it concluded that (1) its members were more interested in directly contributing to a solution of the societal problems on the table than only talking about them and leaving it onto the government to address them; and (2) that its members were already turning into powerful allies for each other on that quest. So, instead of disbanding when the project was completed, Edgeryders (as community members call themselves) turned even more active; they entered seven socially innovative projects into the European Social Innovation Prize (accounting for over 1% of the total submissions!); launched an Edgeryders-inspired NGO called Edgeryders Sweden; partnered up with Swedish Foundation Global Utmaning to launch an inquiry into how the young relate to work (not just employment, actual work) in the Baltic region; and got to work to spin off its collective memory – the Edgeryders online platform itself, with all its content – from the Council of Europe into the wild (here is a temporary blog – heavy Drupal development is going on behind the scenes). More good things are in the pipeline: we see each other all the time, and involve one another in our projects. Just in the past two weeks I have been exploring network analysis (in Venice) with Anthony Zacharzewsky and Gaia Marcus; learning about urban suprematism (!) and the golden age of squatting (in Stockholm) from Dougald Hine, Ben Vickers and Ola Moller; hanging around open source developers from all over the continent (in Brussels) with Dante-Gabryell Monsoon and Michàl Wozniak. And that's without even mentioning all of the online interaction.
Whatever else we did, we did build a proud community that is not afraid to look big problems in the eye, and even to attempt to crack some of them. My part of the e-book (read or download here) was conceived as a user manual: it offers a behind-the scene account of what was going on as we – starting from zero users – engineered the development of what would become Edgeryders. Enjoy!
Share this:
Follow