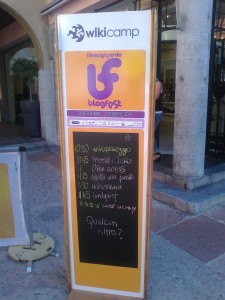 Sorry, this post in Italian only. It reports from Blogest, an Italian gathering of bloggers and social media people. Please use automated translation to get a feeling for it.
NOTA DI ALBERTO – Questo post inaugura una serie di guest post a cura del Nocciolo duro, gruppo di lettori del mio "Wikicrazia" così avanzati da essere in grado di presentarlo al mio posto. Sono davvero onorato di avere lettori così intelligenti e intraprendenti, e spero che a questo primo post seguano molti altri. Il mondo wiki è in movimento continuo, anche in Italia. Sabato 1 ottobre 2001 a Blogfest, il Nocciolo duro di wikicratici che si ispirano al lavoro di Alberto Cottica, ha partecipato a Blogfest, la manifestazione organizzata a Riva del Garda (TN) che riunisce ogni anno tutto ciò che in Italia gravita attorno alle community della rete. In rappresentanza del Nocciolo, Simone De Battisti e Renato Turbati hanno preso parte a Wikicamp, dove si è discusso di esperienze operative che utilizzano la tecnologia wiki per sviluppare progetti e creare conoscenza. Peppe Liberti, scienziato e blogger, ha parlato di Open Access. A partire dall'utilizzo che fino ad oggi si è fatto degli articoli inviati alle riviste specializzate, da parte dei professori e/o ricercatori universitari, che diventano
sostanzialmente di proprietà delle riviste stesse e che per metterli a disposizione della comunità scientifica richiedono il pagamento (anche agli stessi autori), il relatore ha spostato l'attenzione su alcune esperienze differenti che si stanno affermando in Europa. In particolare, secondo Liberti,
Princeton ha deciso di esercitare il diritto non esclusivo di rendere disponibili a chiunque le copie degli articoli scritti dai membri delle sue Facoltà (a meno che non venga espressamente richiesta una deroga per qualche particolare articolo). Questo significa che Princeton da ora in poi autorizza i docenti a postare le copie dei loro articoli sui loro siti personali o in quello istituzionale o dove gli pare purché siano disponibili gratuitamente. Si tratta, in buona sostanza, di un disincentivo a pubblicare su quelle riviste che chiedono il trasferimento del copyright.
Come ha ricordato Frieda Brioschi, presidente della Fondazione Wikimedia Italia, in questo caso il link con il mondo wiki sta nel rapporto che sussiste fra chi crea conoscenza e chi ne usufruisce. Elisa Mazzini, redattrice web 2.0 presso Turismo Emilia Romagna
(APT Servizi Emilia Romagna), ha parlato del progetto Adotta una parola, iniziativa di APT Servizi Emilia Romagna che prevede che cittadini e istituzioni possano raccontare gli elementi caratteristici del loro territorio adottando una voce su Wikipedia. Simone De Battisti e Renato Turbati, hanno parlato (molto bene) di Wikicrazia. Giulia (non ho capito il cognome) ha parlato della ricerca Lundquist, che analizza quante fra le 100
aziende italiane con maggior capitalizzazione, hanno una pagina su Wikipedia in inglese.