The predictable failures of public policies, those immediately obvious to everyone save the decision makers responsible for them, are legion. From the International Monetary Fund's East Asian structural adjustment recipes to the 40-years-old Messina Strait Bridge project, we all have, at some point, read the proud announcement of some government project and thought "This is never going to work". People who make these decisions, clearly, think they make perfect sense. How to explain such a large discrepancy? The only thing I can think of is that many public decision makers live in an information bubble which is completely disconnected from the world you and I inhabit. They simply do not have access to some relevant information. If it really is so, then maybe they are not qualified to make policy decision in the first place.
Consider, for example, a City of Milano project called Ambrogio. Here's how it works: some organizations (district councils, local police) were given handheld devices, and they can use them to report problems with streets and public spaces. The report is filed in the databases of the competent offices, which then fix the problems.
This project has serious flaws.
it is technologically flawed. Why incorporate this functionality into a physycal device? It would have been enough to write software for smartphones. This would have enabled anyone with a smartphones to participate. Plus it would not force the poor "sentinel citizens" to carry yet another device, recharge its batteries, update its software etc.
it is socially flawed, as it disables self-selection. Only individuals sected top-down by the City can use the system directly: it would have made social sense to enable everyone, leaving each individual to decide if and when to decide. Large numbers in potential participation lead to high impact even when participation rates are low – as is almost always the case. This way, a lot of potential contribution will never happen, and many of those devices will gather dust in some drawer.
it has useless features, like the possibility to attach photos. If somebody abandons a bicycle chained to a pole, uploading its picture on the City's servers adds no significant information and burdens the system with image recognition algorithms. A simple form to report textual information is much easier to process. Additional advantage: since you can fill the form typing on your home computer's keyboard, you don't even need a smartphone to participate
it lacks transparency. As I write – and the civil's society requests notwithstanding – Ambrogio has no website; it in unknown how much it costs or what technologies it uses. Given that the technology partner is Telecom Italia, hardly a champion of free software, I don't expect those technologies to be open. If I am right,
it clashes with common sense and with the E-government Code of Laws, which mandate the reuse of technology. The city could have used FixMyStreet, a British open source project that was later adopted in Norway. The Norwegen meshed it with the OpenStreetMap geographic database, itself open source. The code is up and running, it would have been enough to translate the user interface into Italian! Or it could have asked the city of Spinea for its system, and maybe add a couple of thousand euro to add a smartphone app to it.
it is expensive – though, given the lack of transparency, we don't know how much. Media reports have spoken of 400,000 euro.
What strikes me about this series of mistakes is how easy it would have been to avoid them. A Google search would have returned FixMyStreet and Spinea. Just talking to Milano's own civil society would have led to competent, passionate people who work on technology as a participation enabler, like the Green Geeks and the creators of NetLAMPS. Putting their work front and center of the city's effort would have reinforced a narrative of empowerment of an active citizenship. But that did not happen: instead, the people responsible for Ambrogio somehow managed to avoid any contact with these informations and the people who might have helped them. Unfortunately this is a common situation.
I have no problem with a mayor not being a technology expert: she might have other expertise, other experience to serve the citizenry with. But when no one, in her circle of advisors, even thinks of doing a Google search or giving some cognoscent citizen a call before spending 400,000 euro of taxpayer money, I find it unacceptable. Something to meditate upon, since elections are coming up.
PS – I am curious about the famed handheld device. Does anybody recognize it?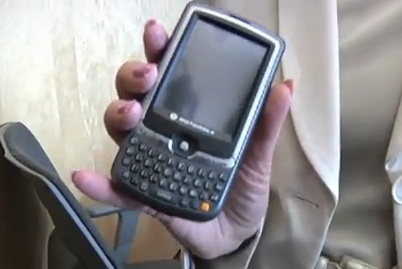 PPS – The post's title is a tribute to García Márquez.