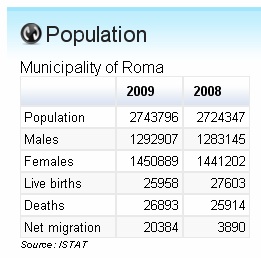 After a long new year festivity pause, the Spaghetti Open Data is back with a vengeance. These days everyone is playing around with a WordPress plugin coded by Vincenzo Patruno, a developer working for ISTAT, very active among us spaghetti and open data lovers. The plugin is a widget that taps into ISTAT's data warehouse and returns real-time demographic data on a municipality, province or region of our choosing (installation, supereasy, is explained here).
Seeing this, another mailing list participant, Paolo Mainardi got the idea to do the same thing for Drupal. So he asked Vincenzo for the code, promptly got it, and just a few hours later he released a similar plugin, that taps into the same data, that runs on Drupal (get it here). Kudos to Vincenzo and Paolo: clearly the Italian open data movement has all the technical skills it needs.
Then, of course, we'll need to build a community of open data re-users, with both the drive and the ability to tell stories grounded in data; stories that we can use to better understand our common life as citizens, from integration policies to the State's accounting, and redesign them as needed. But that's a completely different ballgame, and we are not there yet. But we will. A first step in that direction might be an initiative of the city of Torino, which just launched this call for ideas (hat tip: Lorenzo Benussi, on the same mailing list).
Share this:
Follow